---
AISI 304 / 304L - Anti Fingerprint Stainless Steel Sheet
AISI 304 / 304L
AISI 304 / 304L Stainless steel anti-fingerprint sheet is applied anti-fingerprint paint resin as substance. The features are easy to clean, anti-fingerprint, waterproof, scratch resistant and anti-corrosion.

The coating achieved more than 2H (pencil hardness test), and bending test 0T which suitable for various processing.

Anti-fingerprint stainless steel sheet presents in various type of colors such as Matte color, Rose gold color, Champagne gold color, Tungsten Steel Black and Pure Black accompany with its unique metallic luster. Anti-fingerprint stainless steel sheet is also available to coat at both side.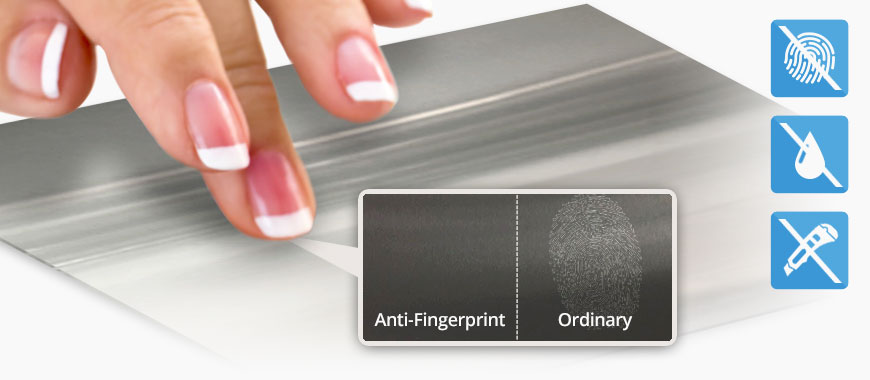 Specification
01. Steel Grade: AISI 304 / 304L
02. Surface Finish: Anti-Fingerprint Paint Resin
03. Thickness: 0.3mm - 1.6mm
04. Width: 914 / 1000 / 1219 / 1250
Grade
Standard
Chemical Composition
Y.S.
T.S.
E.L.
HRB
Ni
Cr
Mn
Si
C
N
P
S
(N/mm²)
(N/mm²)
%
304
ASTM A240
8.0 ~ 10.5
18.0 ~ 19.5
≦ 2.0
≦ 0.75
≦ 0.070
≦ 0.10
≦ 0.045
≦ 0.015
≧ 205
≧ 520
≧ 40
≦ 90
Grade
Standard
Chemical Composition
Y.S.
T.S.
E.L.
HRB
Ni
Cr
Mn
Si
C
N
P
S
(N/mm²)
(N/mm²)
%
304L
ASTM A240
8.0 ~ 10.5
18.0 ~ 19.5
≦ 2.0
≦ 0.75
≦ 0.030
≦ 0.10
≦ 0.045
≦ 0.015
≧ 170
≧ 485
≧ 40
≦ 90